Development of image analysis algorithm to detect early retinal changes
Changes in inner and outer retinal layers are a hallmark finding in different retinal and neurological disorders. An intricate network of arteries, capillaries and veins in the retina supply the inner retina with oxygen and important nutrients. The retinal vasculature also plays an important role in removing the by-products of retinal metabolism. Pathological changes in the retinal layers and vasculature are a key component in many of vision threatening ocular diseases. It is important to develop effective clinical testing methods for the early diagnosis and follow up of retinal changes.
This project aims at developing customized image analysis methods to analyse the changes in the retinal layers and vascularity from optical coherence tomography (OCT) and OCT angiography (OCTA) images, which can be applied to identify early structural changes in retinal pathologies. We aim at integrating metrics from the different imaging modalities and identify the combination of metrics that can provide the most sensitive and reliable biomarkers for early structural changes in different retinal pathologies. We also aim at assessing the relation between the obtained structural biomarkers and the functional vision. Early diagnosis and better monitoring are necessary to prevent any irreversible damage in the visual system.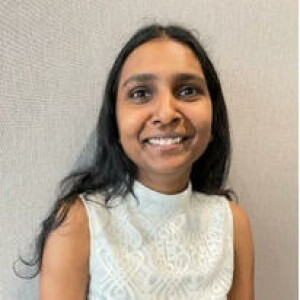 Abinaya Venkataraman (Karolinska institutet)